INTRODUTION
China Central Television (CCTV) is the national TV station of the People's Republic of China and it is one of China's most important news broadcast companies. Today, CCTV has become one of China's most influential media outlets. In addition to its TV programs, CCTV has also built up a multi-media broadcasting platform and business operation, which includes movies, newspapers and the internet. CCTV is the main news source for the Chinese people. It is also an important window for Chinese to learn about the outside world, and for the world to find out more about China. CCTV is making efforts to become a global media network with increased international influence.
BROADCASTING INTRODUTION
CCTV currently has 21 public channels and 19 Pay TV channels in operation, covering almost every aspect of the Chinese social life. Currently CCTV is running 6 International Channels in 6 different languages, which include Chinese, English, French, Spanish, Russian and Arabic. CCTV has also started business in the new media platforms such as Internet TV, Mobile TV, Bus Mobile TV and IP TV.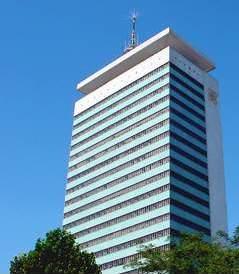 CCTV Old Building
CCTV has kept on implementing and deepening the strategy of promoting specialized channels of well-known brands. Because of this, CCTV has made full use of the overall advantage of all its channels and has improved the quality, selection and character of its broadcasts. It also produces some excellent programs, including News Broadcast Nationwide, Topics in Focus, China News, Economy 30 Minutes, Legal Report, Lecture Room and Art Life. Some performances and sports events have also become famous brands, such as the CCTV Spring Festival Gala, the "Heart to Heart" Art Ensemble and the National Youth Spring Contest. Many CCTV programs have also won major domestic and international prizes every year.
National Day celebration
On the Oct. 1st, 2009, CCTV provided live broadcast for the 60th founding anniversary of the People's Republic of China (PRC). More than 1,000 CCTV staff were involved. Channels all over the country transmitted the live broadcast, which included: 13 CCTV channels, 35 satellite TV channels, 176 terrestrial channels and also on Mobile phone TV, IP TV and Bus Mobile TV provided by CCTV.com. People watching the event through the Internet live broadcast on CCTV.com reached over 2.62 million at the maximum, which is the highest record in history. This is the first time ever since the Founding of New China to broadcast the entire National Day Celebration in six United Nations working languages, and in HD Signal.