Due to their tattoos, many young people have lost their opportunities to attend a university, become a civil servant or join the army. In last week, as Chongqing carried out its winter conscription work, many youths came to the Skin Cosmetology Department at the Daping Hospital to get their tattoos removed. Dr. Yang Yadong, who works in the department, said that over 30 percent of the youths who came to get rid of their tattoos would still not be able to join the army.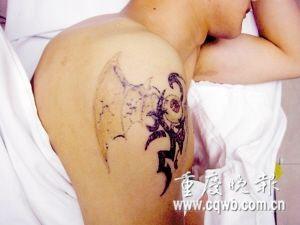 Terrible tattoo, a sad way to lose college and
army opportunities
On the afternoon of October 28 in a sickroom at Daping Hospital's Skin Cosmetology Department, the 19-year-old youth Zhong Bing (assumed name), who had just finished his operation, seemed very regretful.
Zhong Bing lives in the Shapingba District, and he has maintained a good academic record since he was a child. "In junior high school, many male students in my class went to a tattoo shop close to the school and got tattoos in order to be cool." Zhong said when he was 13 years old, he, egged on by his classmates, went to a tattoo shop, spent over 200 yuan and got a wolf's head tattooed on his chest.
At the National Entrance College Examination of 2009, Zhong was accepted into a major university in Chongqing. But after the physical examination, the university ultimately refused to accept him because of the wolf head on his chest. Zhong's university dream was broken.
Recently, Chongqing's winter conscription work has been launched. Learning that the people with tattoos are not allowed to join the army, Zhong, accompanied by his mother, went to the hospital, hoping he could get rid of the tattoo through surgery, and can therefore fulfill his dream of joining the army.
"The wolf's head tattoo on Zhong's chest is 12cm long and 15cm wide. It will certainly stop him from joining in the army." Yang explained that the depth of the tattoo was about 1mm and the colored ink had largely subsided. By performing a skin cutting operation, the doctor gave him a clean body. "But when the wound healed, there will still be a very large scar. So, he will still not be able to join the army."