On October 11, three chefs from Wuhan Commercial Service College, along with 167 explorers for China's 26th scientific expedition group, left for Antarctica on the polar exploration vessel "Snow Dragon" from China's exclusive domestic base for polar expeditions in Pudong, Shanghai. Among them were two students who are the first Chinese culinary students going to Antarctica.
The explorers wore scarlet Chinese Antarctica scientific expedition uniforms, with the striking Chinese national flag logo pinned on their chest. They were very excited on the departure day. They took 60 tons of raw food materials, which were divided into 14 categories. After arriving at the South Pole, these cooks will use the materials to cook delicious and nutritious meals.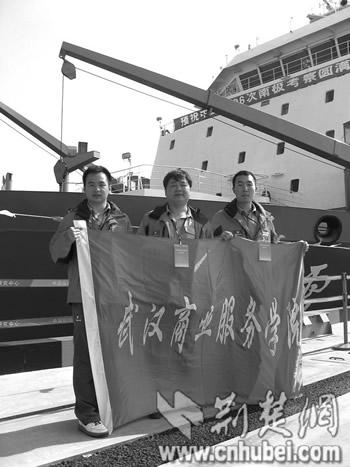 The three chefs take a picture before they leave.
There are a total of 254 explorers for the Antarctica expedition and it is one expedition with the heaviest tasks and participated by the highest number of explorers since China's first visit to Antarctica. Wuhan Commercial Service College will be in charge of food, beverage service and management of the Great Wall station, Zhongshan Station and Kunlun Station. It is the first time that the work has been undertaken by universities.
According to sources, the national polar expedition base held a public selection, and finally, a total of five teachers and students from Wuhan Commercial Service College won the chance to go on the expedition. Among them, three will cover more than 15,000 miles by sea and take two months to arrive in Antarctica, and the other two will leave for Antarctica by plane in December.
Translated by LOTO
Editor: Shi Taoyang | Source: CCTV.com