National defense students become a "think tank" in parade training
2009-09-21 15:43 BJT
Special Report: National Day Parade |
Special Report: 60th Anniversary of PRC |
National defense students currently study in ordinary universities and will become military officers in the future. They will be a new military officer team.
Currently being trained in the Shahe Parade Village, eighty national defense students who come from different universities and study different subjects will pass the review on behalf of tens of thousands of national defense students.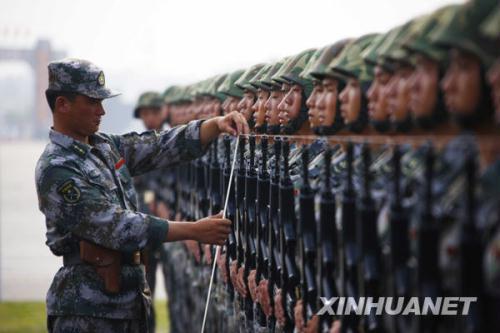 Side view of a lineup of officers and soldiers
Attending the parade is the beginning of their military career
Wang Zenghong, a national defense student, and a member of the second squadron of the cadet group. He has topped his university's outstanding national defense student list for four consecutive years. He once won national scholarships and was conferred a title of "outstanding national defense student of the Guangzhou Military Area Command." He will directly attend graduate school after graduation.
In the Shahe Parade Village, he sees his participation in the parade as the starting point to his military career. He pays attention to his every movement. Before taking a step, he makes sure each step is 75 centimeters in length. In order to practice his kicking movement, he bound a 2 kg sandbag to each of his legs. He often sleeps on a bed without a mattress to practice military gesture. In order to enhance his physical condition, if other people run 3,000 meters, he would run 5,000 meters. After several months of training, Wang Zenghong has become stronger, and his movements have become more and more precise. He has summed up a series of easy to remember principles such as "hold out your leg as soon as you hear the instruction and shift your arms timely."