Keywords: whole collection of renminbi bills
Things that happened in my family
1950 I left Beijing film projection school and headed straight to North Korea to serve as a soldier of literature and art. I carried a film projector onto the battlefield.
1952 I returned to Beijing from North Korea and worked in the General Logistics Department's cinema team to screen films. Later on, I went to work at the Bayi Film Studio.
1956 On the set, I fell in love with my future wife "at third sight" and we got married the next year in Baoding.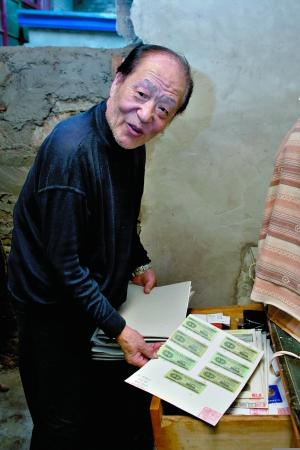 The government is transforming courtyard houses
and my old house is under renovation. I will only
leave a small portion of my collection in the old
house. Some are left with my son and the rest are
with my daughter. I have drawn up a will, which
states that my children will own these collections
according to the current arrangements.
1966 I was sent to Zhuolu County in Hebei Province after being accused of having illicit relations with foreign countries and inciting counter-revolution.
1979 My accusations were redressed and I retrieved 17 boxes of my collections.