To date, the new rules on driving restrictions by license plate number in Beijing have been implemented for over 40 days. Information like "real-time traffic conditions" updated by Beijing Traffic Management Bureau (BTMB) has proved that in comparison with both the initial period after the implementation of these driving restrictions in October last year and after the launch of the new rules last month, the effect of these measures to ease traffic pressure is weakening.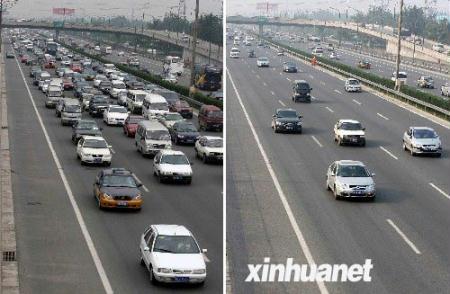 Effect of driving restrictions is to disappear in three years
Nevertheless, the vehicle transaction markets in Beijing have been remarkably vigorous. Low-price and small-engine vehicles have almost been out of supply, and the transaction volume of second-hand vehicles has increased by over 50 percent.
At 7am on the early morning of May 25 (Monday), the sun was already scorching. Mrs. Qiu's car was "creeping" slowly on Lianshi Road, both the increasing temperature and other "creeping" cars beside her car made her a little nervous. Starting from Dinghuisi Bridge of the West Fourth Ring Road, she had been driving for one hour on her way to the office near Xibianmen Bridge. Mrs. Qiu said it took only a little more than 30 minutes in the initial period after the driving restrictions were implemented last fall.
There are more congested roads now than that in the initial period after the implementation of the driving restriction
The "real-time traffic conditions" updated by BTMB revealed that during the latest week, there were 30 congested road sections each day on which the average driving speed is less than 20 kilometers per hour. The usual congested road sections consist of areas adjacent to the bridges of ring roads such as the East and West Second Ring Road, Third Ring Road, as well as the East, West and North Fourth Ring Roads, and major traffic arteries such as Jianguomenwai Street and Jianguo Road. These sections have been high on the ranking list of the most congested road sections nearly every day. Furthermore, traffic congestions are gradually appearing as early as 6:30 am.
The average number of congested road sections each day is 30 during the morning rush hour. Although this figure is an improvement when compared to that before the implementation of driving restrictions, statistics announced by traffic authorities revealed that, there were few heavily congested road sections in the initial period after driving restrictions were implemented in October last year, with the most noticeable ease seen in the Fourth Ring Road.