"Due to the fact that they have no voice changes, it is difficult to train their voices," Wei Demin stated in a low voice, a 46 year old shadow play artist, fearing that the apprentices might hear him.
Wei has 12 apprentices in total, with the average age of 24 years old and average height of no more than 1.3 meters.
The apprentices have named themselves the "little people shadow play troupe." Founded in the summer of 2007, the shadow play troupe was originally located in Dashila Street, and they just moved to a courtyard close to the south gate of Yuanmingyuan at the beginning of this year.
At 6:30 every morning, Wei will lead his apprentices to the river bank to train their voices and practice skills. Before joining this shadow play troupe, these apprentices either ran grocery shops, did odd jobs or just stayed at home. None of them has ever been trained to act before.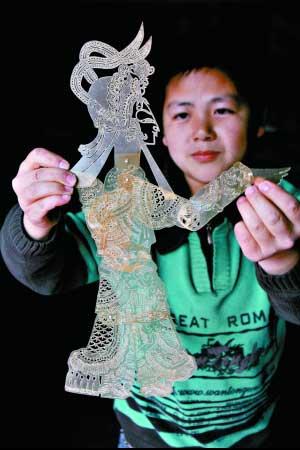 Zhang Jianwei studied fine arts and he is the
best in carving shadow figures among all
"little people". Carving shadow figures
is their daily training course.
They have morning lessons, breakfast, and at 8:30 am, start performing or doing exercises. They usually have two to three performances a day and their audiences are mainly tour groups or people invited by some companies for special occasions.