The world's first touch-screen electronic book reader, a door access system that can identify human faces, ceramics that can float on water, recyclable houses that can breathe…… On May 21, at China International Exhibition Center, the 12th China Beijing International High-Tech Expo (CHITEC) Exhibition continued to open to visitors, and a batch of domestic independently-developed new technologies as well as products made of new environmentally friendly materials allowed people to experience new technologies.
Face recognition with success rate of 95 percent
"Only when faces were identified, would the door access system unlock the door." In Hall 3 at "Beijing Scientific and Technological Achievements Exhibition" a "Face Recognition Identification" machine independently developed by Hanvon attracted many people's eyeballs.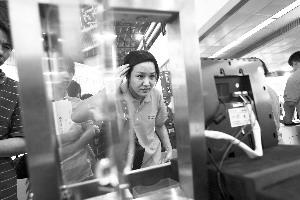 On May 21, staff are showcasing the human face
recognition system.
"Please take a picture for a trial." Staff members persuaded visitors to stand in front of the machine to take pictures and the machine recorded their faces. Only when the faces were identified accurately in several seconds, did the door open, "Bang." If important facial features such as mouth, nose and eyes are covered, the machine immediately refuses to open the door for the person. Not only can such a feature prevent strangers from entering, but it can also eliminate the possibility that someone clocks in on behalf of another person
According to Hanvon staff members, the "Face Recognition Identification" machine is the first of its kind in the world to have two embedded cameras, allowing four identification procedures to be processed within one minute, with a success rate of 95 percent, making it the most advanced in the world.
Fire-proof and recyclable houses
Because hot topics including the circular economy as well as energy saving and emissions reduction were followed with particular interest, the organizer of the exhibition has specifically set up an "exhibition hall for energy saving and emissions reduction technologies." In Hall 5, the most popular exhibit is a small two-storey house made of "wood", which is in fact not made of regular wood but "Luxwood" - a wood-plastic composite concerning over 30 patents.
"This is a type of artificial timber made of a variety of physically processed plant straws and wood powders," said a staff member of the exhibitor, Beijing Hengtongchuangxin Wood & Plastics Company. This kind of "wood" is ultralight as well as corrosion-proof, moisture-proof and fire-proof, and especially when the houses are demolished or no longer used, they can be recycled for processing and reuse.
Translated by LOTO
Editor: Shi Taoyang | Source: CCTV.com