Han Geng (born February 9, 1984), better known in Korea as Hankyung, is a Chinese pop singer and actor. The young man from Hezhe ethnic group of China is the only Chinese member of the large boy band Super Junior and the leader of its subgroup Super Junior-M. He is regarded as one of the four lead dancers of Super Junior and is also one of the two members in the group who frequently performs Chinese martial arts in Super Junior's dance routines. Han is well-known for his dancing, being particularly skillful in Chinese traditional dances from the 55 Chinese ethnic groups.As a member of a Korean music group, he is an important contributor to the Korean wave in China. In 2008, Han was elected as a torch bearer for the 2008 Beijing Olympics for his contribution to the cultural changes between China and South Korea.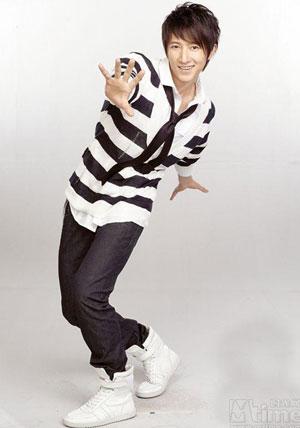 Han Geng
Han Geng, an ethnic Hezhe from Northeast China, was born in Mudanjiang, Heilongjiang, China. At the age of 13, he was accepted into Central University for Nationalities and left Mudanjiang to Bejing to perfect his craft in the dance industry.In December 2001, Han's friend notified him of a talent scouting audition that was going to be held in Beijing, and his friend encouraged Han to sign up with him. Although hesitant at first, Han agreed to audition with his friend. Together they signed up for the H.O.T. CHINA Audition Casting, a casting audition that was hosted by Korean talent agency and label SM Entertainment. The competition rate was 3000 to 1, and Han had no hopes of getting selected after auditions ended.
After the audition, Han began to work briefly as a cameo actor in short low-budget Chinese films to earn a salary before entering college. In late August 2002, Han was notified that he had been accepted into SM Entertainment. After Han's graduation at the Central University for Nationalities, he was sent to Korea and received private lessons in singing, dancing, and acting, as well as learning the Korean language. In mid 2003, Han moved into dormitories and lived with other trainees that were under the same label. With the other trainees, he was enrolled in training classes and became a Class A dancing student.
On February 6, 2005, Han was officially announced to be part of the all-boy rotational musical group Super Junior as a member of its first generation, Super Junior 05. Being the first Chinese and foreigner to formally debut in Korea, the media closely followed the group. Three months later after the announcement, Han made his first media appearance as a runway model in a Fashion Show organized by Bum Suk.
On March 20, 2008, Han was announced to be one of the torch bearers for the 2008 Beijing Olympics, the first boy-band member to be chosen in history. Being active in a foreign country, Han has simultaneously promoted Chinese culture to Korea, earning him a spot as torch bearer.His torch relay was in the Beijing route on August 7, 2008. He was runner number 240. Not only was he a torch bearer, he'd also sung the Beijing Olympic theme song "Beijing Welcomes You".
Editor: Zhang Wen | Source: CCTV.com