Kazak Aites is a typical folk art of the Kazak ethnic group and a contest-type performance of antiphonal singing. It is the literature genre with richest content among folk oral literature of Kazak and has exerted the greatest influence on the general public. Its traditional programs mainly express the history, culture and emotion of the Kazaks. It is full of dense features of Kazak oral literature and music from lines to lyrics. It has extraordinary historical values and is known as "a mirror" and an "encyclopedia" of the life of Kazak people.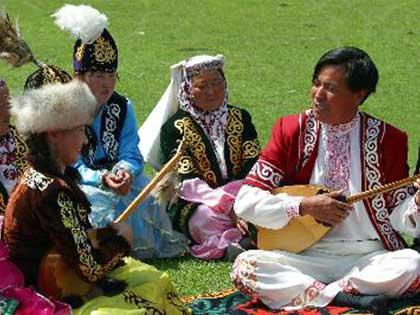 Kazak Aites is a typical folk art of the Kazak ethnic group and a
contest-type performance of antiphonal singing.
In ancient times, Akens looked for competitors of antiphonal singing and perfected their skills in grand festival gatherings and common weddings. Akens and poets with profound knowledge asked questions and answered promptly by poems by antiphonal singing in weddings and other gatherings. By such a way, they taught knowledge or express certain viewpoints. When the master welcomed his guests, he would invite neighbors and ask the guest to sing. At this moment, the guest would sing what he heard or recited to people. His song would be spread in entire Awule rapidly and even to further places.
Aites antiphonal singing has no fixed styles. The performer generally decides the melody and rhythm from the language itself based on the content of antiphonal singing. They mostly accompany themselves by Tambura. Some just sing without any accompaniment. Aites actors must be clever and have profound knowledge. They must have the talents of impromptu composing, understand the society, be clever with interpersonal skills, have quick response and convince people by their reasoning and talents. It reflects not only Aken's playing and singing ability or pure music talents, but also their comprehensive skills. It is a sophisticated and advanced art that integrates Akens' playing, singing and impromptu composing ability, music talents, eloquence, ability of creation and performance.
As a contest-type antiphonal singing, Aites artists often suppress others and uplift themselves during the performance. They try to take the control with poignant language. They understand each other. The winner won't be complacent and the loser will not feel defeated. The winner is modest and polite while the loser does not feel ashamed. Aites show must be staged in gatherings, normally between artists from different tribes and regions.
Editor: Zhang Wen | Source: Cultural China