Imagine you're standing on the tower, 233 metres up. Now take a stroll around the outer-rim that encircles the tower. Piece of cake, right? Oh, did we tell you that the walkway is just 1.8 metres wide and, get this, THERE'S NO HANDRAIL!
Welcome to Skywalk X! Created by AJ Hackett -- a name synonymous with bungy jumping -- Skywalk X is a new adventure that takes the hair-raising fun of Skywalk to its limit!
In June 1987, AJ Hackett bungy-jumped from the Eiffel Tower and into the international spotlight. Today the inventor of the commercial bungy operates 10 sites around the world, including the site at the Macau Tower, and all with a flawless safety record.
Just like the bungy, Skywalk X LOOKS far scarier than it really is. The world's first overhead safety system - designed by a team of Adventure Professionals at AJ Hackett - stands in place of the missing handrails, but leaves all of the scariness intact. Ready for a walk on the wild side? Come and test your nerves at Skywalk X today! Get High in Macau!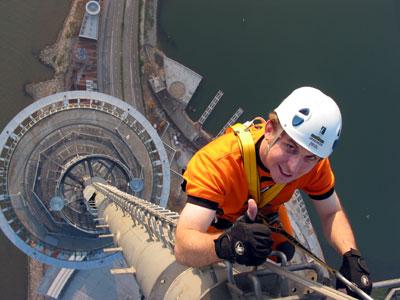 Mast climb
Mast climb
Conquer Macau's highest summit at the Macau Tower, at 338 metres, and stand at the top of the tower by climbing 100 metres up the mast's vertical ladders.
The SkyJump, a new attraction at the Macau Tower that takes guests on a 20 second flight over the breathtaking cityscape of Macau, will be the highest adventure of its kind around the world. Taking off from the outer rim of Macau Tower 233 meters above ground, it is an astounding 41 metres higher than the only other Sky Jump in the world at the Sky Tower Auckland.