The Miao ethnic minority group is one of the few minority nationalities that have an extensive population existing in and out of Mainland China. Scattered worldwide, the Miao diaspora exists on five continents and many countries, including Thailand, Laos, Vietnam, France, Britain, Canada, Australia, and the United States, among others.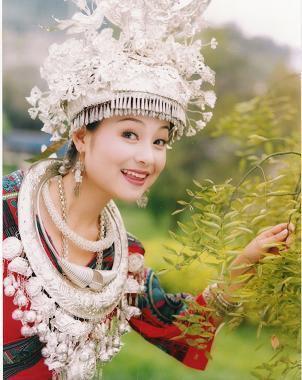 Miao Ethnic Minority
In China, they inhabit a wide range of land in south-central China, including settlements in Guizhou, Hunan, Yunnan, Sichuan, Guangxi, Hubei, and Hainan Provinces. Approximately four million Miao reside in present-day Guizhou, a population that accounts for over half of the Miao in China. Census reports have the Miao situated in rural and urban environments across the prefectures and counties of Guizhou.
People often refer to Guizhou Province as "the base of the Miao nationality." Inside Guizhou, the majority of the Miao population resides in the Southeastern Guizhou Miao and Dong Autonomous Prefecture. Tai County has the highest concentration of Miao ethnicity at 97% and is referred to as "the number one county of the Miao nationality." The remaining population is distributed among less concentrated counties in the province.
In southeastern Guizhou, the Miao population accounts for over 25% of the total Miao people in China. This subgroup tends to inhabit remote mountainous areas far away from the city in tight-knit village networks. In fact, they seldom live in villages consisting of any nationality other than their own.
The Guizhou Miao nationality, representing the Miao nationality of China, can be used to illustrate the main cultural characteristics of the Miao as a whole. The language system is intricate, consisting of three wide spread dialects, numerous sub-dialects, and many localized dialects. The Miao language belongs to the Miao-Yao branch of the Chinese-Tibetan language family and consists of three main dialects: the Western Hunan dialect, the Eastern Guizhou dialect and the Sichuan-Guizhou-Yunnan dialect. The Eastern Guizhou dialect is exclusive to the Taijiang Miao nationality. In general, many Chinese and foreign ethnologists regard Guizhou as an ideal place to research the Miao nationality. However, the Taijiang region is considered to be the "brightest pearl" in regards to understanding the customs and culture of the group specifically.
For sustenance, the Miao rely heavily on agriculture and for the most part are a typical agrarian society. However, hunting also plays an important, albeit minor, role. Miao arts and crafts are beautifully colored and renowned at home and abroad. Crafts such as cross-stitch, embroidery, brocade, wax printing, paper cutting, and general adornment creation are cultural staples. Among these, Miao wax printing has over 1000 years of history, while Miao clothing incorporates hundreds of styles in varying arrays of color. Headdress is common, often using flowers to accent vibrant patterns. The Miao are generally adept singers and dancers and specialize in love songs and songs for toasting. The reed pipe is the most commonly used musical instrument during musical serenades or feasts.
Editor: Yang Jie | Source: