Zhangjiajie is a rising tourist city famous for its unique natural scenery and abundant tourism resources. A Hollywood photographer came to Zhangjiajie in 2008 and took pictures that inspired artists who designed the settings of Avatar. It is located in the northwest of Hunan province, about 400 kilometers away from Changsha, capital of Hunan, covering a total area of 9,563 square kilometers, of which 76% are mountainous area. Out of its total population of 1.62 million, almost 72% belong to ethnic minority groups, including Tujia, Bai and Miao nationalities.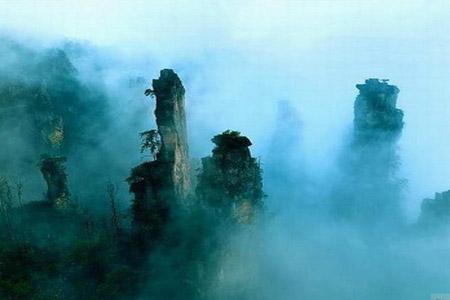 A Hollywood photographer came to Zhangjiajie in 2008 and took pictures
that inspired artists who designed the settings of Avatar.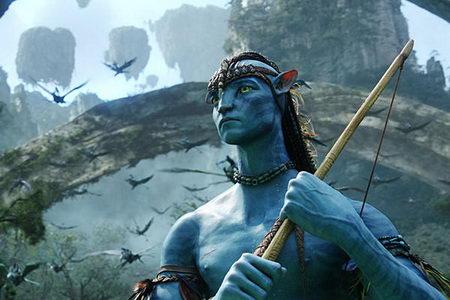 The floating Hallelujah Mountains provide one of the more exotic settings
for the blockbuster science-fiction film, 'Avatar.'
Zhangjiajie is a prefecture-level city consisting of Yongding and Wulingyuan Districts, Cili and Sangzhi Counties. Wulingyuan District, also called Wulingyuan Scenic and Historic Interest Area, is endowed with striking natural beauty. This site is dominated by more than 3,000 narrow sandstone pillars and peaks, many over 200m high. Between the peaks lie ravines and gorges with streams, pools and waterfalls, 40 caves, and two large natural bridges. It is also home to a number of endangered plant and animal species. Therefore, it was listed into the World Natural Heritage Catalogue by the UNESCO in 1992. What's more, Zhangjiajie was awarded the title of "World Geological Park" in 2004.
Quartz Sandstone Peak Forest and Karst Caves constitute the outstanding landscape features of Zhangjiajie, which are rare in the world. Here you'll find yourself with hundreds of grotesque peaks, beautiful waters, towering trees, deep valleys, marvelous caves and exuberant forest that have formed a complete primitive ecological environment. In fact, Zhangjiajie, honored as "the most fantastic mountain under heaven" and " a living Chinese landscape painting", is a perfect combination of the beauty of Guilin, the grotesqueness of Mount Huang, the peril of Mount Hua and the magnificence of Mount Tai . It is also widely acclaimed as "an enlarged potted landscaping", "a miniature fairyland" and "a maze of nature", attracting a growing number of tourists from home and abroad.
There are over 300 marvelous scenic spots in Zhangjiajie, such as Tianzi Mountain, Yangjiajie and Baofeng Lake. As the core of Zhangjiajie attractions, Wulingyuan Scenic and Historic Interest Area is composed of Zhangjiajie National Forest Park, two major Nature Reserves -Tianzi Mountain and Suoxi Valley and the new Yangjiajie Scenic Area, stretching over a total area of 397 square kilometers. Zhangjiajie National Forest Park, set up in 1982, is the first authorized national forest park in China, featured by its unique hills, queer ridges and peaks, tranquil valleys, clear streams, abundant fauna and flora and hospitable climate. There are six main scenic spots and over 90 smaller ones in the park,which will bring you a lot of excitement and fun.
Near the downtown area of Zhangjiajie stands grand Tianmen Mountain called "the Soul of Wuling", and there is a beautiful Maoyan River that enjoys the reputation of "one-hundred-li long gallery" , a Jiutian Cave named "the number-one cave in Asia" and other charming scenic spots in Wulingyuan. All these natural wonders are worth exploring. In addition, you can take great delight in touring the Puguang Buddhist Temple, Hongjiaguan- Former Residence of Marshal Helong, Tujia Folk Custom Park, the Old House and other historical and cultural sites in Zhangjiajie.
After more than twenty years of development, tourism industry has become the leading industry in Zhangjiajie, which has stimulated the development of other industries related to tourism. In the meantime, ecotourism has been developed greatly here. When you come to Zhangjiajie, you can fully appreciate its magnificent natural scenery and experience appealing folk custom as well as other thrilling tourist activities, and you will be deeply impressed by the hospitality of local people. We are sure that your visit to Zhangjiajie is really exciting, joyful and unforgettable.