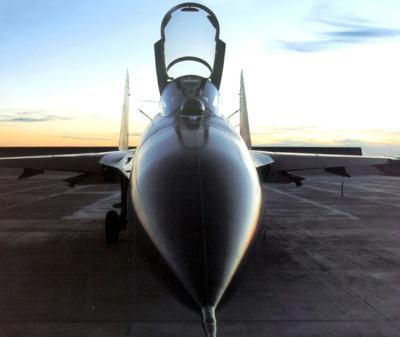 J-11B fighter
In mid-2002, SAC unveiled its intention to build an upgraded multirole version of the J-11 by revealing a mock-up aircraft carrying various types of air-to-air and air-to-surface missiles. Russian sources also confirmed that SAC was pursuing a multirole variant of the J-11 designated J-11B with much greater Chinese-made content. At least three examples (#523, #524, and #525) of the J-11B have been delivered to the China Flight Test Establishment (CFTE) for flight test and evaluation since 2006. The aircraft was based on the Su-27SK/J-11 airframe, but with the following modifications:
An indigenous multifunctional pulse-Doppler fire-control radar reportedly capable of tracking 6~8 targets and engaging 4 of them simultaneously;
An indigenous digital flight-control system;
A Chinese copy of the Russian OEPS-27 electro-optic search and tracking system;
A strapdown INS/GPS navigation system;
A 'glass' cockpit featuring four colour multifunctional displays (MFD) and a wide-angle holographic head-up display (HUD).
Editor: Du Xiaodan | Source: People's Daily