Address by Hu Jintao, President of the People's Republic of China at the Opening Ceremony of the Beijing Summit of the Forum on China-Africa Cooperation
Beijing, 4 November 2006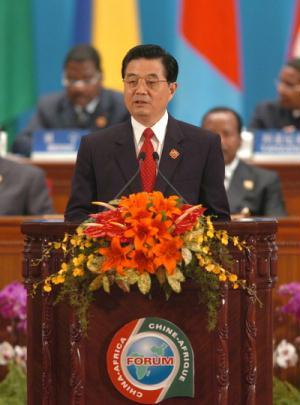 President Hu Jintao addresses at the Opening
Ceremony of the Beijing Summit of the Forum on
China-Africa Cooperation
Your Excellency Prime Minister Meles Zenawi,
Distinguished colleagues and guests,
Ladies and Gentlemen,
Dear Friends,
Our meeting today will go down in history. We, leaders of China and African countries, in a common pursuit of friendship, peace, cooperation and development, are gathered in Beijing today to renew friendship, discuss ways of growing China-Africa relations and promote unity and cooperation among developing countries. On behalf of the Chinese Government and people and in my own name, I wish to extend a very warm welcome to you and deep appreciation to you for attending the Summit. I also want to extend, through the African leaders present today, the cordial greetings and best wishes of the Chinese people to the brotherly African people.
The Forum on China-Africa Cooperation was jointly set up by China and Africa in October 2000, a major initiative taken to promote traditional China-Africa friendship and cooperation. In the six years since then, two ministerial conferences have been held, first in Beijing and then in Addis Ababa. Today, the Forum serves as an important platform and effective mechanism for conducting collective dialogue, exchanging experience in governance and enhancing mutual trust and cooperation in practical terms between China and African countries.