Source: CRI
09-20-2007 15:26
<!a href=# target=_blank>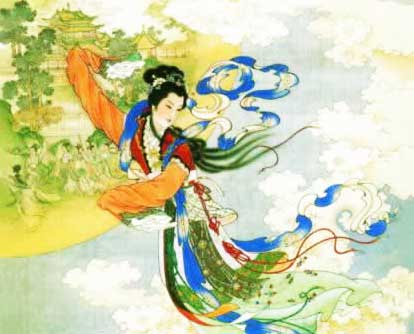 <!a href=# target=_blank>
There are many beautiful legends about the moon in China. the most popular one tells how a goddess named Chang'e ascended to the moon.
A long, long time ago, a terrible drought plagued the earth. Ten suns burned fiercely in the sky like smoldering volcanoes. The trees and grass were scorched. The land was cracked and parched, and rivers ran dry. Many people died of hunger and thirst.
The King of Heaven sent Hou Yi down to the earth to help. When Hou Yi arrived, he took out his red bow and white arrows and shot down nine suns one after another. The weather immediately turned cooler. Heavy rains filled the rivers with fresh water and the grass and trees turned green. Life had been restored and humanity was saved.
One day, a charming young woman, Chang'e makes her way home from a stream, holding a bamboo contaiver, A young man comes forward, asking for a drink. When she sees the red bow and white arrows hanging from his belt, Chang'e tealizes that he is their savior, Hou Yi. Inviting him to drink, Chang'e plucks a beautiful flower and gives it to him as a token of respect. Hou Yi, in turn, selects a beautiful silver fox fur as his gift for her. This meeting kindles the spark of their love. And soon after that, they get married.
A mortal's life is limited, of course. So in order to enjoy his happy life with Chang'e forever, Hou Yi decides to look for an elixir of life.He goes to the Kunlun Mountains where the Western Queen Mother lives.
Out of respect for the good deeds the has done, the Western Queen Mother rewards Hou Yi with elixir, a fine powder made from kerndls of fruit which grows on the tree of eternity. At the same time, she tells him:If you and your wife share the elixir, you will both enjoy eternal life. But if only one of you takes it,that one will ascend to Heaven and become immortal.