Source:
09-20-2006 15:01
<!a href=# target=_blank>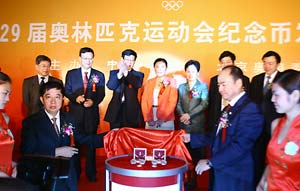 The coins unveiled
Two types of coins to commemorate the 29th Olympic Games will be issued by the People's Bank of China on September 20, it was announced in Beijing on Monday.
The products include a set of two base metal coins with a face value of one yuan each, and a set of six precious metal coins, including two made of 1/3 ounce of gold and four made of one ounce silver each. All these are legal tender in the People's Republic of China, according a statement released at a press conference jointly held by the Bank and the Beijing Organizing Committee for the Games of the XXIX Olympiad (BOCOG).
On the obverse of the base metal coins the emblem of the Beijing 2008 Olympic Games is engraved, together with the image of its main stadium -- the National Stadium and its tracks. Total mintage is limited to 10 million pieces, which will be in circulation concurrently with the current RMB bills and coins of the same denomination.
The obverse of the precious metal coins features the emblem of the Olympics and a pair of traditional Chinese dragons. The gold coins have a face value of 150 yuan and the silver coins 10 yuan. The maximum mintage stands at 60,000 and 160,000 for gold and silver coins respectively.
According to an agreement between the People's Bank and BOCOG, two more sets of coins to commemorate the 29th Olympic Games will be issued in 2007 and 2008.
The numismatic program has become a tradition of the Olympic Games with the first coin issued in Finland on the occasion of the Helsinki 1952 Games. Since then, the Games have seen many coin productions, usually based on themes related to sports or art and culture of the host country.
China has already issued commemorative precious metal coins, pins and gold bars on the theme related to the 29th Olympiad since 2001 when Beijing was awarded the right to host the 2008 Games.
<!a href=# target=_blank>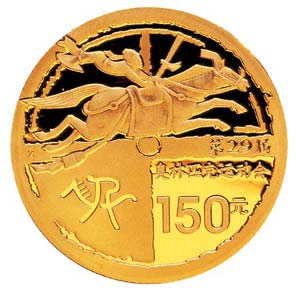 A type of the reverses of the gold coins