China's first astronaut, Yang Liwei, 38, was hurled into outer space by Shenzhou-5 spacecraft at 9 a.m. Wednesday from Jiuquan Satellite Launch Center in northwest China's Gansu Province.
Amidst deafening roars, the Shenzhou-5 manned spacecraft was lifted into the sky by a Long March-II-F carrier rocket. Both the spacecraft and the carrier rocket were designed and built by China independently.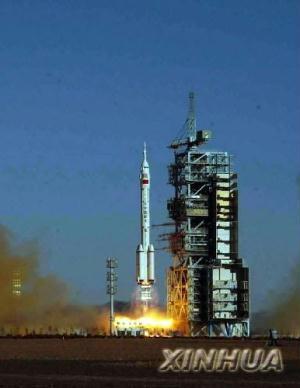 Shenzhou V launch successful 2003
Li Jinai, director-general of China's manned space program, announced success of the launch about ten minutes after the blast- off, when the spacecraft entered its preset orbit with precision.
This, China's maiden manned space flight is scheduled to last 21 hours. Success of its launch means that China has become the third country capable of sending people into outer space, following the United States and Russia.
"Today, our long-held manned space flight dream has finally come true," said Hu Shixiang, vice director-general of China's manned space program.