Children color in Expo
2009-06-01 15:46 BJT
Special Report: 2010 Shanghai Expo Countdown |
Hundreds of children yesterday gathered in Changning District for an Expo-themed painting competition to celebrate Children's Day.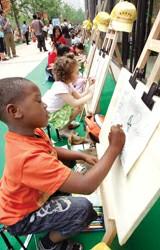 Children portray world expositions in the
painting competition.
A total of 213 children from all over the world used their imaginations to portray world expositions. Expo 2010 mascot Haibao was a popular figure in the paintings.
The competition took place at the Gubei residential community.
Editor: Zheng Limin | Source: www.expo2010.cn