New product designs for Expo
2009-05-21 15:06 BJT
Special Report: 2010 Shanghai Expo Countdown |
The organizer yesterday chose 12 innovative products designed by Chinese designers and university students as winners of a competition for designs for Expo-licensed products.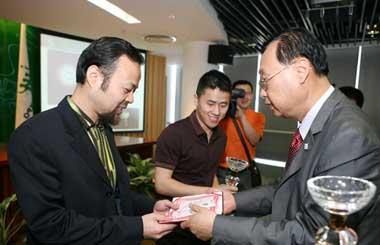 Scene of the awarding ceremony
The new products include a T-shirt that can turn into a bag, a lamp with a porcelain lampshade, a paper bag that can be turned into a chair and an umbrella with an Expo map on it.
These new products will show up in the local market at the end of the month, said Zhu Zhengping, president of the Shanghai Sinnsa Co Ltd.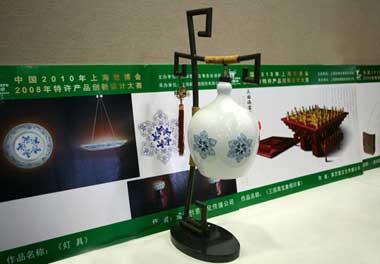 A winner product of the competition
The competition attracted 718 entries from home and abroad.
The winning products embody the theme of the 2010 event - Better City, Better Life - and help promote Expo. The Shanghai Expo logo and mascot Haibao were included in the designs where possible, the organizer said.
"We are seeking original, fashionable and eco-friendly products that are easy to use in daily life," Chen said.