Finnish pavilion started
2009-04-24 14:52 BJT
Special Report: Shanghai World Expo 2010 |
Finland is committed to its budget for the 2010 Shanghai World Expo despite the global economic crisis, its economic minister said yesterday when work began on its pavilion.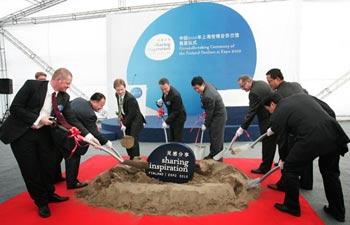 Scene of the groundbreaking ceremony
The country is investing 13.7 million euros (US$17.83 million) in its Expo project, said Mauri Pekkarinen, Finland's minister of economic affairs. The government is providing 75 percent and the rest is from sponsors including the Helsinki Business Hub, Kone, Nokia, and Finnair.
The six-story pavilion, which looks like a huge white bowl, will be surrounded by a lake, appearing to float on the water, said Pertti Huitu, Finland's commissioner general for the Expo. The facade will be mainly made from waste paper and plastic.
The exhibit will be based on the theme "Sharing Inspiration," promoting ideas on how to improve living standards.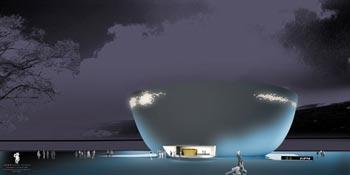 An artist's rendition of the Finland Pavilion
Meanwhile, construction began yesterday on an elementary school financed by Finnish companies in Guanghan City of Sichuan Province, one of the areas worst affected by last year's earthquake. The school, to cater for about 250 students, should be finished in September.
Finnish companies have collected 3.78 million yuan (US$492,067) for the school but still need about 400,000 yuan. You can donate at www.finnish-charity-school.org.
Editor: Xiong Qu | Source: expo2010.cn