China, Mongolia leaders pledge to enhance ties
CCTV.COM 2003-06-05 09:06:52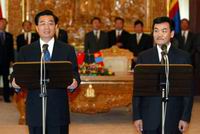 In the Mongolian capital of Ulan Bator, visiting Chinese President Hu Jintao and his Mongolian counterpart Nachagyn Bagabandy have discussed ways to bring the Sino-Mongolian relationship to a new high. After their talks on Wednesday, the two heads of state also attended a signing ceremony for various economic and technological cooperation agreements.

During the talks, the Chinese president gave a positive assessment of the fruitful cooperation between the two neighboring nations in recent years.

Hu Jintao said that China's new leadership will take further steps to develop cooperation with Mongolia. He also made a four-point proposal aimed at promoting Sino-Mongolian relations to a new level of cooperation in the new century.

Firstly, China proposes to establish the Sino-Mongolian partnership of good-neighborliness and mutual trust. The two nations will always endeavor to be good neighbors, good friends and good partners.

Secondly, both nations will continue their top-level visits.

Thirdly, both sides will seek and promote bilateral trade and economic ties.

And fourthly, both nations will continue to strengthen their political cooperation in regional and international affairs.

For his part, Mongolian President Bagabandy said that his country fully approves China's proposal to establish a mutual partnership of good-neighborliness and mutual trust. He reiterated that Mongolia firmly adheres to its one-China policy.

The two heads of state also agreed to step up bilateral cooperation in finance, infrastructure development and in their joint fight against alleviating the hazards of sandstorms.

Bagabandy also expressed his appreciation to China for providing preferential loans to Mongolia as a way of encouraging large development projects.

Chinese Customs figures show that the total value of Sino-Mongolian trade reached over 370 million US dollars last year. China is the leading investor in Mongolia, currently having some 700 projects in direct investment in Mongolia.



Editor: Yang Feiyang CCTV.com