Chinese president meets Mongolian parliament speaker
CCTV.COM 2003-06-05 16:06:04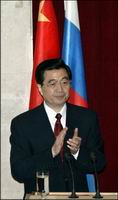 Chinese President Hu Jintao expressed the hope in Mongolian capital city Ulan Bator on Thursday that the parliaments of China and Mongolia will continue their wide-ranging cooperation.

During a meeting with Sanjibeghz Tumurochir, chairman of the Mongolian State Great Hural (parliament), Hu said contacts and exchanges between parliaments constitute an important part of state-to-state relations.

The Chinese president said the legislatures of the two countries should continue their multidimensional and fruitful cooperation to make contributions to the development of the China-Mongolia partnership of good-neighborliness and mutual trust.

Hu also reiterated China's readiness to establish and develop friendly relations with all countries on the basis of the Five Principles of Peaceful Coexistence.

After the meeting with Tumurochir, Hu, who arrived in Mongolia on Wednesday for a two-day state visit, delivered a speech at the State Great Hural.



Editor: Yang Feiyang Source:Xinhua