Chinese president meets international figures
CCTV.COM 2003-06-03 09:06:33
Chinese President Hu Jintao met on Sunday and Monday with Malaysian Prime Minister Mahathir Mohamad, Chinese-American physicist Samuel Chao Chung Ting and International Olympic Committee (IOC) President Jacques Rogge, respectively.

When meeting with Mahathir, Hu said China and Malaysia are "good neighbors, friends and partners."

The Chinese new leadership attaches importance to developing friendly and cooperative relations with Malaysia, said Hu, who attended the informal South-North leaders dialogue meeting held on Sunday in the French spa town of Evian.

He believed that with the joint efforts of the two sides, the good-neighborly ties and mutual cooperation will develop rapidly.

Mahathir, on his part, said that closer Malaysian-Chinese cooperation is in the interests of both countries.

The Malaysian leader expressed the hope that China would play a much bigger role in both Asian and international arena.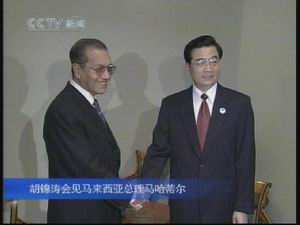 The two leaders also exchanged views on some international issues. They agreed that the United Nations plays an irreplaceable role in safeguarding world peace and stability, saying that all the countries should enhance consultations and coordination and properly deal with international issues within the framework of the United Nations.

When meeting Ting, a 1976 Nobel laureate, the Chinese president earnestly listened to his brief on his recent work and future research plan, and hoped Ting would make new headway in his future research work.

During a meeting with IOC President Rogge, Hu said the Beijing Olympic Games Organizing Committee, under the support of the Chinese government, is implementing all preparatory work for the 2008 Olympic Games.

The severe acute respiratory syndrome (SARS) epidemic in Beijing has been initially contained and the construction and preparatory work for Beijing Olympic projects are not affected, said Hu.

He said the Chinese capital is stepping up development in public health care, the improvement in emergency mechanisms, and security measures in a bid to guarantee the success of the 2008 Games.

Hu emphasized that the Chinese government will as always fully support all the efforts of the Beijing Olympic Games Organizing Committee and expand cooperation with the IOC.


He expressed the belief that through the joint efforts, the 2008 Games will become the best ever in history.

Rogge, on his part, spoke highly of the Beijing Olympic Games Organizing Committee, saying its work is excellent and efficient.

The IOC president also said that running an Olympic Games in China, the most populous country in the world, is of vital significance to the development of international sports.

He promised that the IOC will fully support Beijing in its efforts to run a successful Olympic Games.



Editor: Xiao Wei Source:Xinhua