Evening Drum and Morning Bell (1)
Monarchy and Revolution
CCTV.COM 2002-06-25 10:06:41
In the old days, the Bell and Drum Tower built in the Ming Dynasty had always signaled time for the capital. Officials and civilians in Beijing were quite dependent on it until invading Eight-power Allied Forces destroyed the drum in 1900. It has fallen silent ever since.

The "new administration" set up in l901 failed to give hope to China. Disappointment with the Qing rule grew with corrupt officials, bullying foreigners, exorbitant taxes and ever-changing political situation.

In l903, a novel entitled "Revealing Original Shape in Officialdom" was all the rage in the country. It mirrored and poignantly satirized the ugliness in officialdom by the end of the Qing Dynasty.

While the drum fell silent in the capital, a bell rang out resonantly beside the Whampoo River. After the Disturbances of the Year Gengzi, many patriotic Chinese left the capital for the south. The commercial city of Shanghai soon became a center where new political forces gathered.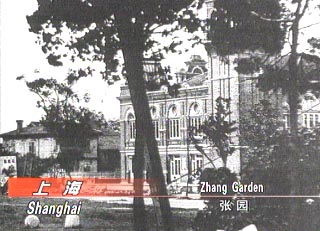 This is a famous building in Shanghai, originally built by a foreigner. When Zhang Shuhe from Wuxi bought it, he called it Zhang Garden. It was once a famous amusement park of Shanghai.

In July 1900, when the Eight-power Allied Forces attacked Beijing, a group of patriotic reformists lost no time to meet in Zhang Garden. Eighty and more eminent persons took part, calling the attention of their fellow countrymen to political and constitutional reforms and to build up a civilized country of the 20th century. A famous reformist called Tang Caichang presided over the meeting. The setting up of a parliament was proposed. Rong Hong and Yan Fu were elected chairman and vice chairman respectively.

In the same year, a pamphlet entitled "Memoirs of the Coup d'Etat of 1898" and written by Liang Qichao quietly found its way around Shanghai. Once again, the inside story of the coup d'etat happened two years ago became the talk of town.

When the Reform Movement of 1898 failed, Kang Youwei and Liang Qichao went abroad into exile. July 6, 1899 was the 30th birthday of Emperor Guangxu. On that day Kang Youwei formed Protect-the-Emperor Society in Canada that opposed Empress Dowager Cixi and supported Emperor Guangxu. They believed that once Emperor Guangxu resumed power, they could realize their ideal of reform and modernization. The growing power of the society infuriated Empress Dowager Cixi. In 1900, she had the tombs of Kang Youwei's ancestors leveled to vent her personal spite.

Unlike Kang Youwei, Liang Qichao spent a whole year studying in Japan. He came into contact with Western ideas concerning people's rights and freedom that transformed his own ideas. He began to get in touch with revolutionaries like Sun Yat-sen. On his 30th birthday, Liang Qichao wrote a poem to express his difficulty in realizing his lofty aspirations.


Wind and clouds pour into the world

The sun and moon dismiss my will

Here is a young man

Who's getting on to thirty

in no time at all.

Liang Qichao

In May 1903, Liang Qichao went to the United States where he paid a formal visit to Roosevelt. Sun Yat-sen, who was in the United States, stated in a speech he gave in Honolulu in Sept. 1903 that he and Liang Qichao were friends, but their political beliefs differed. He stressed that revolutionaries and monarchists took different paths. History proved later that Sun Yat-sen would doubtlessly replace Kang Youwei and Liang Qichao in China's political arena.