China
China backs resumption of Mideast peace process
Source: CCTV.com | 05-12-2009 20:41
China has voiced its support for the resumption of the Middle East peace process at an open UN security Council meeting.
Chinese permanent representative to the UN, Zhang Yesui, called for parties to create an environment conducive to the peace talks.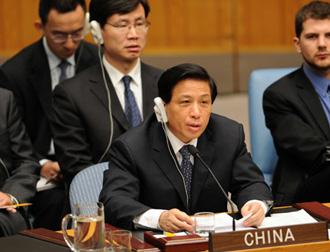 Zhang Yesui, Chinese permanent representative to the
United Nations, speaks on behalf of Chinese Foreign
Minister Yang Jiechi during an open Security Council
meeting on the Middle East issue at UN headquarters
in New York, the U.S., May 11, 2009.(Xinhua/Shen Hong)
Zhang Yesui said the ultimate way to resolve the Palestinian issue is the realization of two states, Israel and Palestine, living side-by-side in peace.
He called on the parties concerned to adhere to the principle of "the Land for Peace" and a "two-state solution".
He also called for promoting the Syria-Israel talks and the Lebanon-Israel negotiations.
The new Israeli government, led by Prime Minister Benjamin Netanyahu, has so far refused to publicly endorse the creation of an independent Palestine state.
Editor:Zhang Pengfei