World
British charity worker wins "world´s best job"
Source: CCTV.com | 05-06-2009 15:21
A British charity worker won "the best job in the world" as caretaker of a tropical island on Australia's Great Barrier Reef after an unprecedented global search.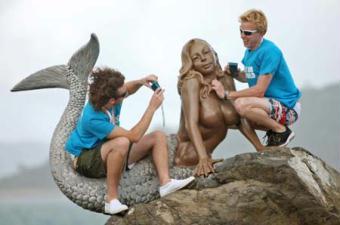 "The Best Job in the World" competition finalists George
Karellas (L) of Ireland and Ben Southall of Britain sit
on a mermaid statue during a media opportunity on
Daydream Island, about 950km (590 miles) north of
Brisbane, May 5, 2009. Karellas and Southall are two
of 16 finalists from 15 nations in the tourism promotion
competition aimed at attracting visitors to Australia's
northeast tropical state of Queensland. The winner will
earn A$150,000 ($110,000) in the role of "Island
Caretaker"on the Great Barrier Reef for six months.
(Xinhua/Reuters Photo)
Fundraiser Ben Southall beat 15 other candidates selected from around the world after Tourism Queensland received more than 34,000 applications for the job on Hamilton Island.
The 34-year-old will spend six months swimming, snorkelling and sailing around the tourist paradise, earning 150,000 dollars (105,000 US) for blogging about his experiences and promoting the region to the world.
The judges said Southall impressed from his initial application, when he said: "The most important thing to me in life is to have an exciting job that makes me happy, puts smiles on peoples faces and achieves challenging goals."
Queensland Tourism Minister Peter Lawlor said he believed Southall, who described himself as the "adventurous, crazy energetic one" in his application, would build up a loyal online following after taking up the position on July 1.