China
Two Chinese warships back home after escort mission
Source: CCTV.com | 04-29-2009 09:24
Special Report: China navy's escorting mission

Click for more news in China Today>>
Two Chinese warships have returned to their home port after a four-month mission escorting commercial vessels in the Gulf of Aden.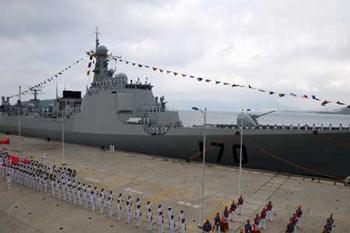 A welcome ceremony held at a port in Sanya, south China's
Hainan Province, April 28, 2009. Two Chinese warships
returned Tuesday to a naval base in Sanya in the southernmost
province of Hainan after a four-month escort mission in the
pirate-infested Gulf of Aden. (Xinhua/Zhu Hongliang)
The two destroyers, Wuhan and Haikou, returned to Hainan on Tuesday. During their mission, they escorted 166 ships, including 33 foreign vessels. They also assisted three ships that were being chased by pirates.
The supply ship, Weishanhu, remains in service off the coast of Somalia to assist the second group of warships now protecting Chinese merchant vessels as well as other ships that request assistance.