China
Helicopters help escorting mission in Gulf of Aden
Source: CCTV.com | 03-03-2009 09:18
Special Report: China navy's escorting mission

Click for more news in World Wide Watch>>
Chinese warships have escorted many merchant ships in the Gulf of Aden off Somalia since they arrived there in early January. And shipborne helicopters are playing an important role in their the mission and handling emergencies.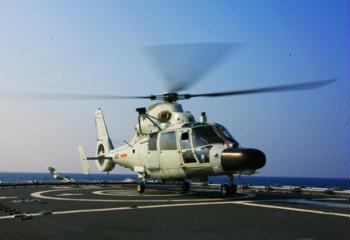 Helicopter conducts a takeoff and landing training on China's
destroyer "Guangzhou" in the Indian Ocean on the way to
Pakistan March 2, 2009.(Xinhua/Zha Chunming)
The missile destroyer "Wuhan" was escorting three merchant ships in the Gulf of Aden on Saturday. At the same time, its shipborne helicopter was patrolling the surrounding area.
Helicopter captain Sun Ziwu said, "Our main task is to patrol the air, and send prompt messages back to the control center. We are also in charge of air search and rescue operations, and cooperate with the ship to deal with any emergencies."
They also need to carry out special training, including take off and landing at night, to shorten their reaction times.