World
New Somali president starts new era, facing daunting task
Source: Xinhua | 02-01-2009 07:56
Special Report: China navy's escorting mission

by Abdurrahman Warsameh
MOGADISHU, Jan. 31 (Xinhua) -- The election of Sheikh Sharif Sheikh Ahmed, leader of the Islamists-dominated opposition coalition Alliance for the Reliberation of Somalia (ARS), is seen as the beginning of a new chapter in Somali politics but analysts warn "huge daunting challenges" are laying ahead for the new administration.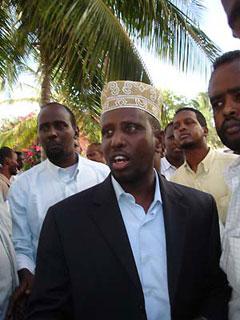 The file photo taken on Dec. 10, 2008 shows
Sheikh Sharif Sheikh Ahmed, leader of the
Alliance for the Re-liberation of Somalia,
arrives at an airport in Mogadishu, capital
of Somalia, after a two-year exile. Moderate
Islamist leader Sheikh Sharif Sheikh Ahmed
won the Somali presidency in a parliamentary
vote in Djibouti early Saturday, paving the
way for a national unity government for the
war-torn Horn of the African nation.
(Xinhua/Abdurrahman Warsameh)
Ahmed won the presidential election on Saturday after a long night of voting in neighboring Djibouti where the enlarged Somali transitional parliament, which includes nearly 200 Members of Parliament from the ARS, has been holding sessions.
It is widely seen here that the election of Ahmed as the new president is only the beginning of a long process of stabilizing the war-torn Horn of African country which has been hit by nearly two decades of civil strife.
"The new leader for Somalia, despite his popular support at the grassroots level within Somalia, particularly in the south-central Somalia, faces formidable opposition from hardline groups within the Islamist camps including the Al-Shabaab movement," Yusuf Harun, a senior academic in Mogadishu told Xinhua.
The Al-Shabaab group has not officially reacted to the election of the new Somali President but the group has been opposed to the peace talks which led to a power-sharing deal between Ahmed's moderate faction of the ARS and the Somali transitional government.
The other splinter group of the ARS led by the firebrand Islamist cleric Sheik Hassan Dahir Aweys has voiced their opposition to the sharing of power with what they term as "the apostate government of Somalia", saying it makes no difference to them between Ahmed and former Somali President Abdullahi Yusuf Ahmed who resigned last month.