Source: CCTV.com
11-10-2008 10:00
Hong Kong's acclaimed Tsui Hark is in the director's chair filming a new production: "Not All Women Are Bad". The film marks a drastic departure from Tsui's earlier works, which focused heavily on martial arts, period dramas. "Not All Women are Bad" is a contemporary comedy. It's slated for release on the Chinese mainland and the Hong Kong Special Administrative Region on December 4th.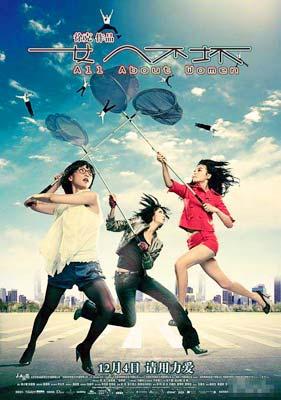 Poster of "Not All Women Are Bad"
"Not All Women Are Bad" is a comedy on modern metropolitan life. This one however, has a fresh perspective. It evolves against the backdrop of Beijing's rapidly developing cityscape.
Tsui Hark was so unrestrained and full of energy as he directed his cast, that sometimes the actors became a little confused.
Zhou Xun, Actress, said, "Every time he gave us a direction, it came as a surprise. We had no idea of what he was going to do. I was told to stand in my position and look at the camera from a certain angle. I was told to kiss somebody. But I had no grasp of the story line. He was bouncing all the way through the filming."
Tsui Hark, said, "At first, I tell my actors what I hope them to do. But very often it turns out to be another feeling in the end. Anyway, I always try to be versatile and forget myself when I throw myself into the work."
"Not All Women Are Bad", a contemporary comedy
The film is a contemporary look at three women with different occupations and social backgrounds and how they deal with love.
Zhou Xun plays multiple roles: doctor, patient, reporter and pregnant woman. Gui Lunmei plays a spice girl. Zhang Yuqi takes the role of a woman of wealth.
The film is slated for release during the competitive year-end season when many big productions vie for the lion's share of box office revenues. Tsui Hark says if his film's box office surpasses a hundred million yuan, he'll be satisfied.