China
Media react to Chen Yunlin´s historic visit
Source: CCTV.com | 11-05-2008 09:11
Special Report: ARATS Chief visits Taiwan

The Taipei Times describes Chen Yunlin's visit as historic. They give full coverage on his activities in Taiwan, including the signing of some key agreements concerning food safety.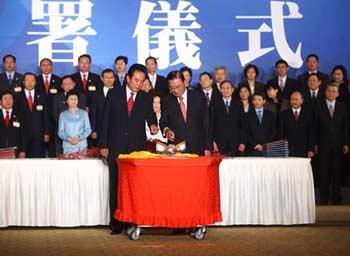 Chinese mainland's Association for Relations Across the
Taiwan Straits (ARATS) President Chen Yunlin (front L)
presents a gift to the Taiwan-based Straits Exchange
Foundation (SEF) Chairman Chiang Pin-kung at the
agreement signing ceremony in Taipei of southeast China's
Taiwan Province Nov. 4, 2008. Chen Yunlin and Chiang Pin-kung
signed four agreements on direct sea transport, direct
flights, mail service and food safety cooperation on
Tuesday.(Xinhua/Xing Guangli)
Reuters reports that Chen and his Taiwan counterpart, P.K. Chiang, are due to sign 13 agreements. These agreements will put aside sovereignty concerns and let planes fly directly between the two sides everyday. They will also allow direct cargo links for the first time.
The news agency says ties across the straits have warmed rapidly since the Taiwan leader Ma Ying-Jeou took office in May.
13 agreements to be signed, including direct flights and cargo links.
Cross-straits ties have warmed up since Ma Ying-jeou took office.
The Associated Press also focuses on the direct flights and cargo links agreements. It says these historic deals have highlighted the dramatic improvement in relations in the past half year.
The BBC has quoted a professor from Taiwan's Chengchi University, saying that in the past, relations between the two sides were hostile, but this visit shows cross-strait relations are headed towards conciliation.
The Washington Post says the visit, which will end on Friday, has enormous political significance and Chen is the highest-ranking Chinese official to visit Taiwan since 1949.
The International Herald Tribune, an international newspaper published by the New York Times, says Chen Yunlin's arrival signals warmer relations across the Taiwan Straits.
Editor:Zhang Ning