World
IAEA discusses Iran nuclear issue
Source: CCTV.com | 09-23-2008 09:03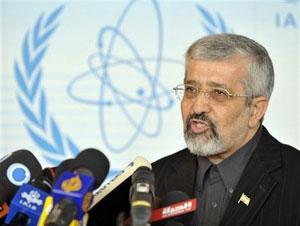 Iran's Ambassador to the IAEA Ali Asghar Soltanieh
delivers a press statement during the International
Atomic Energy Agency, IAEA, 35-nation board meeting
at Vienna's International Center, on Monday, Sept.
22, 2008.(AP Photo/Hans Punz)
The International Atomic Energy Agency has begun a five-day meeting to discuss Iran's move to block investigations into its alleged atomic bomb research.
The UN nuclear watchdog says Iran may be hiding secret nuclear activities.
An IAEA report prepared for the meeting shows Tehren is increasing the number of centrifuges used to process uranium.
IAEA's chief Mohammed ElBaradei says Iran's decision to block agency investigations is a "serious concern". He says Iran needs to give the agency substantive information to clear up suspicions.
ElBaradei also rejected Tehran's argument that the IAEA's investigation threatened Iranian national security.
However, a senior Iranian envoy says his country is not hiding anything. He accused Washington of hijacking the IAEA for an anti-Iran campaign.
Ali Asghar soltanieh, Iran's Ambassador to IAEA, said, "The United States has created a deadlock for the IAEA and for the International community. United States have put a stumbling block on the way of agency's technical work on the issue of verification by giving allegations and interfering with the agency's impartial technical work."
Iran says sites the IAEA wants to examine are purely conventional military facilities any nation would keep off-limits on security grounds. The country insists its nuclear program is for civilian use.
Editor:Zhang Pengfei