World
Foreign leaders hail successful Beijing Olympics
Source: Xinhua | 08-26-2008 08:22
Special Report: 2008 Beijing Olympic Games

Beijing, Aug. 25 (Xinhua) -- Foreign leaders recently conveyed their appreciation of the just-concluded Beijing Olympic Games to Chinese leaders President Hu Jintao, Premier Wen Jiabao and Vice President Xi Jinping, hailing China's efforts in hosting a successful and wonderful event.
King Norodom Sihamoni of Cambodia said the 2008 Beijing Games was of profound significance and revealed China's great achievements to the whole world.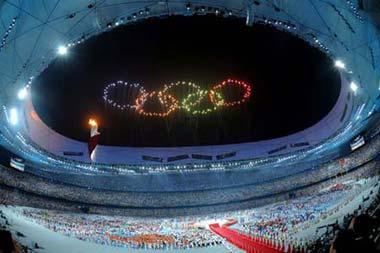 Photo taken on Aug. 24, 2008 shows fireworks in the shape of
Olympic Rings at the National Stadium, or the Bird's Nest,
Beijing, capital of China. (Xinhua/Xu Jiajun)
The Sultan of Brunei, Hassanal Bolkiah, lavishly praised the marvelous opening ceremony and said the Beijing Games was a milestone in Chinese history.
Philippine president Gloria Macapagal Arroyo described the Beijing Olympics as a big event and said the people of her country were celebrating the grand occasion along with the Chinese.
Malawi's President Bingu Wa Mutharika said China has been committed to promoting world peace and mutual understanding among people across the globe for a long time, and the people of Malawi were proud of the successful Games.
Pedro Verona Rodrigues Pires, the president of the Republic of Cape Verde, said China had set an example for the world in promoting world peace and unification by proposing the slogan "One World, One Dream".
James Alix Michel, president of the Republic of Seychelles, said China had successfully hosted the Olympic Games despite the Sichuan earthquake, which reflected the country's perseverance and its ability to deal with difficulties and challenges.
The three concepts of "Green Olympics, High-tech Olympics and People's Olympics" were in accordance with the development view of Seychelles, he added.
Sierra Leonean President Ernest Bai Koroma lauded the Beijing Olympics and wished the Paralympic Games all success.