World
USA wins men´s 4x400m relay with new Olympic record
Source: Xinhua | 08-23-2008 22:37
Special Report: 2008 Beijing Olympic Games

BEIJING, Aug. 23 (Xinhua) -- The United States retained the gold medal in the men's 4x400 meters relay with a new Olympic record at the Beijing Games on Saturday.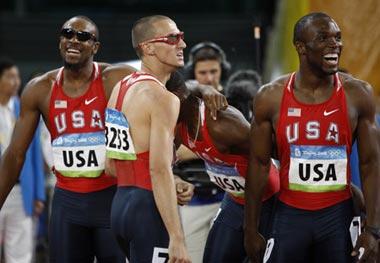 Runners of the United States react after the men's 4x400m relay
final at the National Stadium, also known as the Bird's Nest,
during Beijing 2008 Olympic Games in Beijing, China, Aug. 23,
2008. The team of the United States won the title with 2:55.39
and set a new Olympic record. (Xinhua/Liao Yujie)
The U.S. combination consisted of three medallists from the men's 400m, LaShawn Merritt, David Neville, Jeremy Wariner and Angelo Taylor, finished in two minutes and 55.39 seconds to update the tournament's record set by their predecessors in Barcelona, 1992.
Being individually strong, the quartet have proved with the gold medal that they can do a job in the relay event which requires great effort by cooperation in baton exchange.
The U.S. teams have won 15 out of 21 Olympic titles in the men's 4x400m relay.
The Americans had taken the lead from the first lap and have not been challenged by the opponents in the whole race.
Bahamas, one of the fastest qualifiers into the final, won the silver medal with a seasonal best of 2:58.03 by pushing harder and surpassing Belgium in the final leg.
Russia, who stayed behind in the first three laps, made a rally by the last leg Denis Alexeev and also outpaced Belgium to win a bronze medal. The Russians finished in 2:58.06 who nearly caught up with Bahamas at the finishing line.
A combination from Jamaica, following the American's heels in the first lap, only finished in the last place in the eight-team event.