World
Marathon runner Radcliffe´s brave effort over body and soul
Source: China Daily | 08-20-2008 13:30
Special Report: 2008 Beijing Olympic Games

Paula Radcliffe vowed this week to prolong her career until the London 2012 Games after her second tilt at the Olympic marathon title ended in a familiar combination of tears, pain and disappointment.
Four years after dropping out of the Athens race in distress less than 3km from the end, Radcliffe did reach the finish line in the Bird's Nest Stadium, but that feat offered little comfort to an athlete who usually races only to win.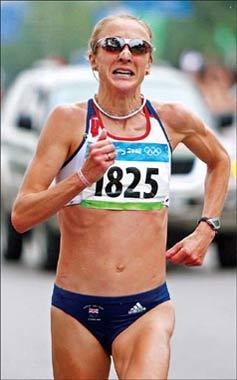 British marathon racer Paula Racliffe competed
at Beijing Olympics with a stress fracture.
[Agencies]
Handicapped by a stress fracture to her left thigh that restricted her to just two weeks of serious preparation before the race, she finished 23rd, more than 17 minutes outside her own world record and almost six minutes behind the gold medalist, Constantin Tomescu, who at 38, is the same age Radcliffe will be when the Olympics arrive in London.
For Radcliffe, just completing the course required reserves of courage.
Tearful at the end, she said she had battled pain in her injured leg throughout the 34km race, at one point stopping to stretch and prompting concerns that she was about to withdraw for the second Games in succession. But she vowed to continue competing until her home Olympics.
"It was like running on one leg," she said, after being reunited with husband and coach Gary Lough.
"The pain started in my calf and seemed to come up into my quads. I stopped to stretch it but it came back. It wasn't sharp pain. I would have stopped if it was. But I just couldn't use it. It was like running on one leg.
"I just really wanted to finish. It's frustrating because I was really comfortable. I just couldn't go any quicker. Cardiovascularly I was OK," she said, fighting back tears. "I am absolutely going to carry on until London, yes. Marathon is one event when you can continue when you are older."
As the disappointment fades Radcliffe will doubtless reflect on her poor fortune in suffering an injury just two months from a race she would have been eminently capable of winning had she been fit and adequately prepared.
In Athens, she was required to run in the stifling heat of late afternoon and the effort sapped every ounce of her remarkable will and left her weeping at the roadside.
For more than 25km in the Beijing race she flourished, running at the head of the field and appearing comfortable. But soon enough, the pain from the stress fracture in her leg was too much.
With less than 5km left even that looked doubtful to finish. "If I felt I was really doing damage I would have stopped," she said.
"But it is horrible when you have to drop out especially when it is the Olympic Games."
Marathon running requires extraordinary resilience and bravery and, like Tomescu and every other finisher who limped away from the track hollow-eyed and hobbled by their exertions, Radcliffe demonstrated both in spades.
Editor:Yang Lina