China
2008 & Beyond: China tries for greater media openness
Source: CCTV.com | 08-02-2008 17:57
Special Report: 2008 Beijing Olympic Games

While athletes will compete for medals at the Olympics, reporters from around the world are also ready to compete for a scoop. And many are wondering just how much freedom they'll have in Beijing to do their job. In our special series "2008 and Beyond", Wang Mangmang spoke to both veteran journalists and newcomers to the country.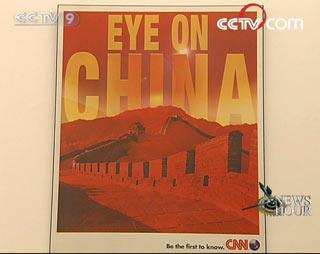 A poster in the headquarter of CNN reflects foreign
media's interests in China. (CCTV.com)
In tomorrow's special series "2008 and Beyond", our reporter Liu Ying takes a look at how Chinese enterprises have used the Beijing Olympics as an opportunity to promote brand image.
Competition at the Olympics is not just for athletes. Some thirty thousand journalists are expected to converge on the city.
And one of the big stories is how China fulfills its promises on free reporting.
Antoine Cormery has already covered the Olympic torch relay. But he says the true test is yet to come.
Antoine Cormery said, "I hope that it will be possible to broadcast live and that the press will be able to show everything, the best, I mean the joy of multi-events, but also if there are protests or demonstrations, I hope it will be possible to film everything like in every country."
Here at the International Broadcasting Center, sixteen thousand accredited broadcast personnel will be working in ninety studios, making it, effectively, the largest TV station in the world.
ARD and ZDF hold the German rights through the European Broadcasting Union. All their equipment has been shipped from home. By opening day, they'll have a crew of seven hundred. The head of production says it wasn't easy at first.
Wolfgang Kramer, Head of Produciton ARD, Germany, said, "It was very complicated to bring our equipment and there were very complicated custom regulations. So it was a lot of work before we start our original work, which is reporting on the event. At the moment we're rather confident everything works. We know the authorities are doing their very best."