China
2008 and Beyond: Volunteers contribute to the Games
Source: CCTV.com | 07-28-2008 15:18
Special Report: 2008 Beijing Olympic Games

Volunteering may be the most remarkable characteristic to embody the concept of "The People's Olympics." And the volunteers' activities are also most eye catching before the Games are open. In the following story, CCTV reporter Xu Zhaoqun shows how the volunteers are working and what impact they are making.
In tomorrow's series, our reporter Liu Ying will bring you more stories about how the local citizens endeavor to speak better english to show their hospitality to the guests from around the world.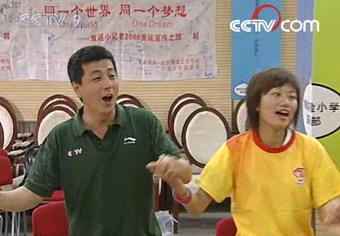 CCTV reporter Xu Zhaoqun and volunteer are sing cheering
songs and shout encourage slogans.(CCTV.com)
Finger-popping music, sexy costumes and the spectators' screaming all these make the cheerleader a fantastic job for almost every girl.
but the volunteers trained to be cheerleaders may also be the ones who sweat most.
Although the rehearsal has been carrying through for nearly half a year, it's hardly to see any smile in the face of the stage director.
Acts like this is not an easy job for the unprofessional performers who are mainly university students.
The efforts of the organizers and the performers to impress the guests with their passion and hospitality is obvious.
However, cheerleaders are not easy to imitated. To encourage the spectators' participation, more volunteers are assigned to join the spectators and lead them to sing cheering songs and shout encourage slogans.
Xu Zhaoqun, said, It's really exciting to follow these energetic girls going through their moves. But I'm afraid I am too old to shout and dance like them for even five minutes. But that's beside the point. The important thing is that thousands of volunteers like them will help ignite sportsmanlike enthusiasm among millions of spectators.
But after all, most volunteers don't have the chance to take part in such passionate activities.