World
Suicide mars Sarkozy trip to Israel
Source: CCTV.com | 06-25-2008 08:27
An Israeli policeman shot himself to death at an airport departure ceremony for French President Nicolas Sarkozy.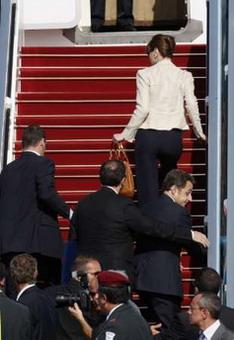 France's President Nicolas Sarkozy
(center R) and his wife Carla Bruni-Sarkozy
(top) are rushed by security officers
into the presidential plane at Ben Gurion
international airport near Tel Aviv
June 24, 2008. REUTERS/Gil Cohen Magen(ISRAEL)
The shooting sparked fears of an assassination attempt and prompted bodyguards to whisk Sarkozy and Israeli Prime Minister Ehud Olmert away. The incident was over within minutes, and Olmert returned and boarded the plane to tell Sarkozy what had happened.
The man was at least 100 meters away from Sarkozy's plane when he fell from a roof after shooting himself. Police denied there had been an assassination attempt on the French leader.
Editor:Du Xiaodan