World
Ban Ki-moon: Myanmar agrees to accept "all" international aid workers
Source: CCTV.com | 05-24-2008 10:25
UN Secretary General, Ban Ki-moon, says Myanmar has agreed to accept help from international aid workers. Ban says Myanmar needs more emergency international assistance, but the country's leaders say they'll cooperate with the UN.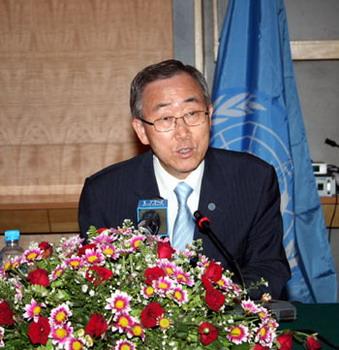 Visiting Secretary-General of the United Nations Ban
Ki-moon speaks during a press conference in Yangon,
Myanmar, May 23, 2008. Myanmar's Senior General Than Shwe
agreed on Friday to let in "all" aid workers to help the
2.4 million survivors of Cyclone Nargis, Ban said during
the press conference here on Friday.(Xinhua Photo)
UN Secretary General Ban Ki-moon has met with Myanmar's top leader General Than Shwe.
Ban says his talks with Than Shwe about post cyclone relief have been good.
Ban Ki-moon said, "He has agreed to allow all the aid workers, whoever, regardless of nationalities. He has taken quite the flexible position on this matter."
The UN chief says Myanmar will process visa applications quickly for international aid workers. Nine helicopters from the World Food Program have also been allowed to ferry emergency relief supplies to cyclone victims stranded in inaccessible disaster-hit areas.
Ban arrived in Myanmar on Thursday to reinforce post-cyclone relief and rehabilitation efforts and a partnership between Myanmar and the international community.
On Sunday, Ban will attend an international conference, co-organized by ASEAN and the UN to raise funds for cyclone-affected victims.
Cyclone Nargis killed at least 78,000 people. 56,000 are missing while about 2.5 million survivors are at risk from disease, starvation and exposure to monsoon rains.
Editor:Du Xiaodan