China
Olympic torch to be carried to Mt. Qomolangma along north slope
Source: Xinhua | 05-07-2008 17:01
Special Report: 2008 Beijing Olympic Games

The Olympic flame's first trip to Mount Qomolangma looks just a stone's throw as Zhang Zhijian, spokesman for the Chinese Mountaineering Team, re-confirmed on Wednesday that the Beijing Olympic flame will be taken to the world's highest peak by the traditional climb route along the north slope.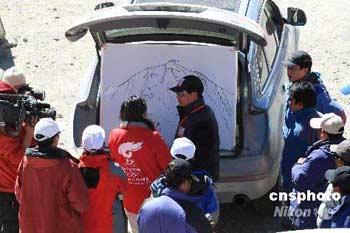 Zhang Zhijian, spokesman for the Chinese Mountaineering Team,
is surrounded by reporters inquiring about the route of the
Olympic torch relay up to the world's highest peak after they
noticed the spokesman sneaking out of media center on Wednesday,
May 7, 2008. [Photo: cnsphoto]
It came six days after Sun Bin, chief of the Olympic Torch Relay Center Qomolangma Operations Team, made the same confirmation.
The Beijing Olympics torch relay is the longest and most ambitious ever planned, traveling 137,000 kilometers across five continents in 130 days. One of the highlights in its global journey is the ascent of the flame over the world's highest mountain which spans Nepal and southwest China's Tibet Autonomous Region.
"Anything can happen at any time," said Shao Shiwei, deputy director of the communications department of the The Beijing Organizing Committee of the 29th Olympic Games (BOCOG).
The traditional and classic route used by most of the climbers starts from the Base Camp with an altitude of 5,200 meters above sea level, then heads for the Advance Base Camp, known as ABC, at 6,500 meters. It then winds upwards the summit with help of three more camps respectively at 7,028, 7,790 and 8,300 meters before scaling the top of Mt. Qomolangma.
According to Sun, there are about 20 routes reaching the top of Mt. Qomolangma, but the traditional route upon the north slope is among the safest ones.
There are 28 km between the 5,200-meter-high Base Camp and the 6,500-meter-high ABC, and from the ABC, there are 20 km to the top.
"The snowfall several days ago had some impact upon the ascent, now our climbers are busy fixing the damaged facilities," said Zhang. "Yesterday, I heard that they have fixed the 7,790-meter-high camp, but I'm not sure whether or when they will take further action."
"If the weather looks good all the time these days, I think I will bring you good news as soon as possible," added Zhang.
After two days' snowfall, the Himalayas welcomed the third consecutive nice day on Wednesday, with warm sun shining and wind blowing softly. Some experienced mountaineers said if everything progresses well the climbers can reach the top of the mountain within four days.