China
Iconic Beijing images on T-shirts
Source: CCTV.com | 01-21-2008 09:01
Special Report: 2008 Beijing Olympic Games

A brand of T-shirts decorated with typical images of Beijing is fast becoming popular in the Chinese capital. The city's hutongs have inspired a new type of 'pop art' as an Englishman transfers everyday designs to T-shirts.
<!a href=# target=_blank>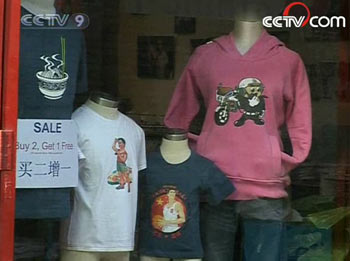 <!a href=# target=_blank>The garments are adorned with retro designs typical of everyday life in Beijing. Most of them are instantly recognizable to people familiar with the city in the 1990s.
Dominic Johnson-Hill lives in the urban alleyways of Beijing known as hutongs. He came here fifteen years ago as a backpacker and never left.
The hutong he lives in is one of the oldest in the city with nearly 800 years of history. It has been marked for cultural heritage preservation.
For Dominic, hutongs are the soul of Beijing, and he loves its old neighborhood feel.
Dominic Johnson-Hill, owner of plastered T-shirts, said, "So I like to stay in the hutongs and around where I live. It's pretty much I live in a small village within the city. You get to know all your neighbors very well. It's very quiet, and it's a pretty interesting place. It's a bit like living in a museum."