China
Yangtze River most thirsty in 50 years
Source: CCTV.com | 12-19-2007 13:45
<!a href=# target=_blank>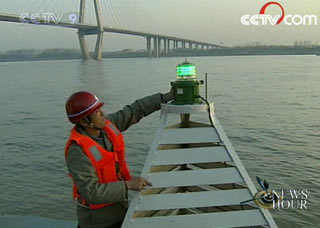 <!a href=# target=_blank>
The Yangtze River is recording its lowest level in 50 years. The river normally has less water between November and April but, this year it continues to drop, falling below the five year average.
Since October, the level of the Yangtze section in East China's Anhui Province, has dropped from 9 meters to 1.3 meters and continues to fall by 3 centimeters a day. This is causing serious problems for shipping. Three vessels have been stranded.
Authorities have started 24-hour inspections, patrolling 3 times a day, and are ensuring navigation markers are reset on time. They're also paying close attention to changes in the riverbed to keep ships from running aground and will clear away sediment if it becomes necessary.
Editor:Zhang Ning