China
Beijing celebrates full moon
Source: CCTV.com | 09-26-2007 13:30
Special Report: 2007 Mid-Autumn Festival

<!a href=# target=_blank>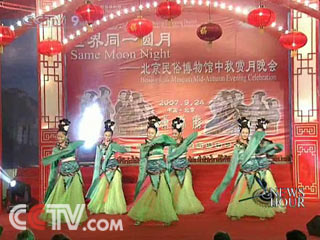 <!a href=# target=_blank>
The Mid-Autumn Festival in China is a traditional festival that is celebrated across the country. In downtown Beijing, the 700 year-old Dongyue Temple hosted a gathering marking one of the oldest and most enduring festivals in China.
Every year as the autumn Moon waxes full, Chinese people gather under the night sky in admiration. It's held as an auspicious rite, bringing promises of abundance, harmony and good fortune.
At Dongyue Temple, Monday night, diplomats from Embassies of Italy, Turkey, Laos and other countries sat with Chinese folklorists to hear a potpourri of Chinese song and dance.
Folklorist Wang Zuoji,said, "The celebration of the Moon Festival marks the revival of Chinese culture. It's part of the intangible heritage of China. There are many folk tales about its origin. One of the most understandable is that under the Chinese lunar calendar, July, August and September comprise Autumn. The 15th day of the 8th lunar month is the middle of the season, hence its name 'Mid-Autumn'."