China
China marks Mid-Autumn Festival
Source: CCTV.com | 09-25-2007 15:29
Special Report: Mid-Autumn Festival Gala

<!a href=# target=_blank>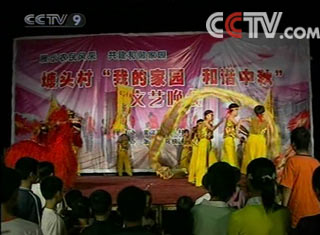 <!a href=# target=_blank>
Today marks the traditional Mid-Autumn Festival in China, a time for family reunions. It falls on the fifteenth day of the eighth month on the lunar calendar.
CCTV International will bring you a two-hour live telecast of the Mid-Autumn evening gala from the Chengde Summer Resort, China's largest imperial garden, about 200 kilometers north of Beijing. The show is scheduled to start at eight pm Beijing time tonight. Please join us then.
Much of China is caught up in a festival atmosphere. In big cities like Guangzhou and Shanghai, an array of performances, featuring traditional music and dances, are available to park visitors. Lantern displays and riddle contests also entertain.
The northeastern city of Qiqihar is trying a first. More than 1000 neighborhood residents are putting on their own variety show.
<!a href=# target=_blank>
<!a href=# target=_blank>
Mooncakes, which symbolize reunions and fortune, is a major tradition of the Mid-Autumn Festival.
In east China's Fujian province, soldiers at a border defense station have sent mooncakes to some 20 Taiwan compatriots stranded there by huge sea waves.
Viewing the round moon is another must-do on the festival. But a tropical storm has clouded the skies above Hong Kong. Local residents may find it hard to enjoy the moon. But this has not dampened their enthusiasm.
Tonight, celebrations are set to reach a high point as families reunite.
Editor:Zhang Ning