World
French FM apologizes for Iraq PM criticism
Source: CCTV.com | 08-28-2007 08:28
Special Report: Iraq in Transition

<!a href=# target=_blank>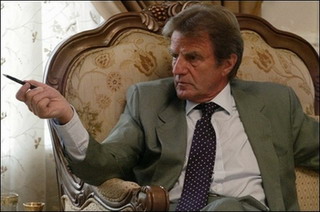 <!a href=# target=_blank>
French Foreign Minister Bernard Kouchner gestures during a meeting with Hassan al-Shamari, Iraqi Shiite MP and leader of the al-Fadila party in Basra, (not seen) in Baghdad, 21 Aug.(AFP/Pool/File/Ali Yussef)
French Foreign Minister Bernard Kouchner has apologized for saying Iraqi Prime Minister Nuri al-Maliki should be replaced. Al-Maliki had demanded an apology on Sunday, after comments Kouchner made in an interview with Newsweek magazine.
Kouchner apologized on French radio station RTL Monday, and later referred to the incident in his speech to the Conference of French Ambassadors.
Speaking to journalists afterwards, he said it had been a clumsy error. He said it isn't the role of the French Foreign Minister to decide who will be another country's Prime Minister.
All he had wanted to do was pass on the criticisms of Iraqis. But he admitted that while speaking English he had forgotten to say exactly what it was he had understood.
Editor:Du Xiaodan