World
Mexican painter´s Blue House Museum opens for public
Source: CCTV.com | 07-05-2007 13:20
<!a href=# target=_blank>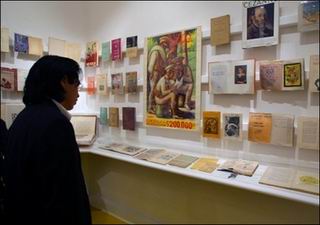 <!a href=# target=_blank>
A visitor watches documents, letters and posters of Mexican painter Diego Rivera on display at the Frida Kahlo museum in Mexico City. (AFP/Omar Torres)
The house of Mexican painter Frida Kahlo will be opened to the public this Friday. It will be known as the Blue House Museum.
The exhibition entitled "Treasures of the Blue House, Frida and Diego" offers a deeper look into the lives of the artist and her husband Diego Rivera. Family photographs, as well as letters, books and colorful dresses of Kahlo will be on show at the museum.
Rivera once requested that the collection not be made public until 15 years after Kahlo's death. He didn't want intimate parts of their lives to be made public so soon after she died.
The exhibition will run from July 6th until September 30th as part of celebrations marking the 100th anniversary of Kahlo's birth.
Editor:Du Xiaodan