China
Chinese mainland official condemns Taiwan separatist activities
Source: CCTV.com | 05-31-2007 08:40
<!a href=# target=_blank>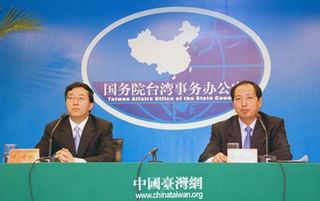 <!a href=# target=_blank>
Li Weiyi (left), spokesman for the Taiwan Affairs Office of the State Council, and Song Dexing, director general of Department of Water Transportation, Ministry of Communications attend a press conference in Beijing, May 30, 2007. [Photo:Chinataiwan.org]
In Beijing, the Taiwan Affairs Office of the State Council has accused Taiwan's ruling Democratic Progressive Party of attempting to split Taiwan from China.
The party is calling for an island-wide vote on whether the territory should join the United Nations under the name of Taiwan.
A spokesman for the Taiwan Affairs Office told a press conference that China will not tolerate Taiwan independence in any form.
Li Weiyi, spokesman Taiwan Affairs Office, said, "The real aim of the so-called "referendum" about whether the island should join the United Nations under the name of "Taiwan" is to change the status of Taiwan and split Taiwan from China. We will not tolerate Taiwan Independence, and we will not tolerate Taiwan secessionists' efforts to split Taiwan from China in any form and by whatever means."
The Democratic Progressive Party expects the vote to be held towards the end of this year or in early 2008. The spokesman also condemned a resolution being drafted by the DPP. The "Normal Country" resolution refers to establishing a "country of Taiwan" and enacting a new "constitution". Li Weiyi said this aims to provoke conflict within Taiwan society and cause tension across the Taiwan Strait.
And the spokesman criticized former Taiwan leader Lee Teng-hui's visit to Japan. He said China hopes Japan will fulfill its promises on Taiwan issue and not provide a stage for Taiwan separatist activities.
Editor:Du Xiaodan