World
Wolfowitz refuses to resign over scandal
Source: CCTV.com | 04-17-2007 15:32
<!a href=# target=_blank>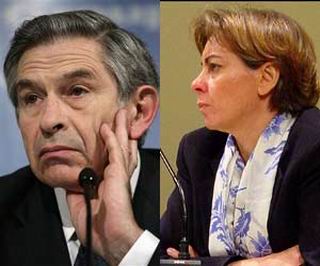 <!a href=# target=_blank>
The President of the World Bank, Paul Wolfowitz, has rejected a call for him to resign over a promotion he approved for his girlfriend.
This comes despite increasing fears among bank member governments that the affair is hurting its image as an agency that is tough on corruption.
Wolfowitz is fighting to hold on to his presidency after disclosing that he directly helped in arranging a high-paying promotion and compensation deal for bank employee and his close companion, Shaha Riza.
The controversy has provoked demands from many of the bank's employees as well as some aid groups for Wolfowitz to resign.
Jean-Louis Sarbib, FMR. World Bank Sr. vice president, said, "I think it's extremely sad that the World Bank is in the news as a scandal institution at a time when poverty is a very big issue for the rest of the world and where the credibility of the institution and the credibility of its head is absolutely essential. So, I think he should go."
A number of European countries have also raised concerns about the affair.
Amadeu Altafaj-Tardio, spoksman for EU Aid commissioner, said, "And we hope this will be dealt with in the proper way, but. And we hope also, and that's our goal, that it will not affect a cooperation which is increasing and which is crucial in particular for developing countries and more in particular for Africa."
Hoping to quell criticism, Wolfowitz acknowledged last week that he made a mistake and apologized for securing a State Department job for Riza in September 2005 that paid her over 190,000 US dollars.
Editor:Du Xiaodan