China
"Orbis" flying hospital lands in Wuhan
Source: CCTV.com | 03-20-2007 11:19
<!a href=# target=_blank>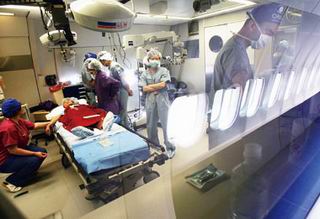 <!a href=# target=_blank>
Orbis International is in Wuhan for a two week "Sight Restoration" program with the city's largest eye hospital.
The humanitarian organization operates the world's only flying eye hospital. It arrived on March 10th, carrying 20 medical experts who will perform eye surgery and offer training to local doctors.
The hospital is a DC-10 wide body aircraft converted into an innovative teaching facility and ophthalmic surgical center.
20 medical experts aboard are volunteers from Canada, the UK, US, Italy, and China's Hong Kong and Taiwan. During the 2 week program, they will perform 50 free surgeries and train 250 doctors from nearby rural hospitals.
Hunter Cherwek, medical dir. flying hospital, said, China has the world's largest population as well as one of the world's largest population of people with visual impairment, So we strategically place the country office here for a long term project to restore sight, Specially pediatric blindness, that's a big focus of ours and we'll be focusing on that during this program.
48 doctors from Hubei, Hunan and Henan provinces received the 1st round of training aboard the plane on Tuesday afternoon when surgeries were performed to 6 patients.
Xiong Zhixia, entropin patient, said, I suffer from entropion for years, Doctor says that it could further deteriorate my sight if it was not cured, my family is poor, and I feel lucky to be selected for the free surgery.
While the surgery was performed at the operating room, it was watched at the nearby classroom for a simultaneous lecture through life broadcasting system.
Since its establishment in 1982. The flying hospital and its international team have conducted treatment and training program in over 70 counties, with 3 million individuals having been treated.
This is the 34th time for Orbis to arrive China.